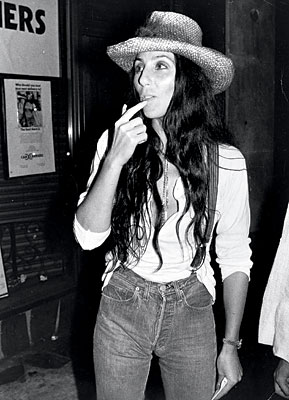 I was going to make a post about Chanukah today, but then I found this picture in
New York
of Cher at Studio 54 and got really distracted. Her outfit is slightly confusing but it appears to be the tightest jeans ever and an open button down which reveals piles of slinky bling. Don't even get me started on the suspenders! Her cascading waves of hair! Her hat! Do you like how she's all, "Oh, we're going to the most famous club ever? Let me just put on my jeans and my insane gold necklace."
I check our site-counter obsessively (hello, German readers! Thank you for searching Christine McVie and finding us here), and in the last week or so, an inordinate number of people have arrived at Listopad via Google searches for
Bobby Trendy
, the late Anna Nicole Smith's interior decorator. This prompted me to re-read Simon Doonan's 2002
New York Observer
column
in which Trendy asks if Diana Vreeland is "a new type of strep throat," which in turn prompted me to look up photos of Diana Vreeland. I found this one at
Wessel + O'Connor Fine Art
; it was taken by Andy Warhol. This is how I want to be remembered - as a pair of penetrating eyes punctuated by knotty, gesticulating hands, painted nails, and big jewelry.
"We're stormy, and that which is ours breaks loose from us without our fearing any debilitation," wrote
Helene Cixous
in "The Laugh of the Medusa," which was published in
L'Arc
in 1968. "Our glances, our smiles are spent; laughs exude from all our mouths; our blood flows and we extend ourselves without ever reaching an end; we never hold back our thoughts, our signs, our writing; and we're not afraid of lacking."
Olivier Roller
took this photo of her in 2004. I can't wait to be old and have crazy short hair and do whatever the fuck I want with my makeup.